I ummed and ahhed about sticking this in 'indiepop' but decided I would... to be
controversial
I was thinking of starting a thread called 'did The Smiths kill independent music and then Alan McGee give the corpse a kicking with his House of Loves and
everything
that came after?' but that seemed like just having a grumble and this thread's here to celebrate
Celebrate what?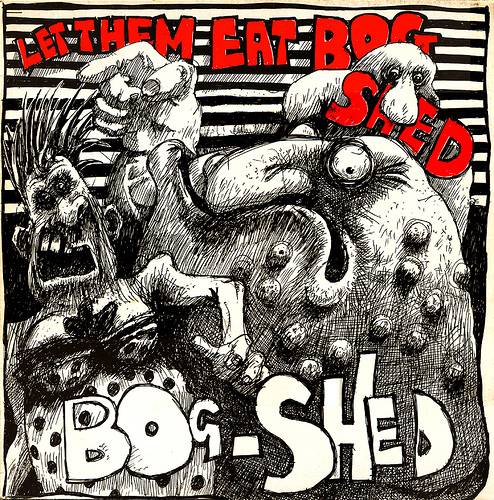 Celebrate all them bands what came post-Fall, post-Nightingales, post-Post Punk who cadged bits off The Swell Maps, bits off ATV, bits off Captain Beefheart and later bits off the Earache bands and the American Noise scene, bits
from everywhere
(Dub; The Beatles; Benny Hill, for instance)
but the
(what seemed)
obvious
(like sounding just like The Smiths or The Velvets)- who were all over Peel's show, invariably (or not) on the Ron Johnson label... bands who were aBRASIVE! pOLITICAL! mORDANT! aCERBIC! aNGULAR! aLL sKEENING gUITARS! nORTHERN dRIZZLE! sHOUTING! sLOGANEERING ('dEATH tO tRAD rOCK!')! cOMEDY! cONVICTION!
Bands like The Nightingales; Yeah Yeah Noh; The Membranes; Bogshed; bIG fLAME!; Eton Crop; Glaxo Babies; The Noseflutes; Pig Bros; Age Of Chance; The Shrubs; A Witness; Stump; The Keatons; Jackdaw With Crowbar; The Ex; Buy Off The Bar; Dawson; The Dog Faced Hermans; Death By Milkfloat; Pregnant Neck; The Stretchheads; Terminal Cheesecake and Bastard Kestrel, to name a few
These bands seemed then as vital and as necessary to indiepop as the bands that get constantly namechecked in hindsight now (Pastels, Wedding Present; Shoppies; Junies; Goshies; Primals, etc)
So this is just a thread to talk about all of them here and maybe mention some I've missed and perhaps to look forward to now and who'd constitute 'Awkward' currently (I'd wholeheartedly advocate Sarandon as keeping this particular spikey torch burning bright and incandescent)
I apologise for the 'Awkward' tag, if anyone's offended by that, I just felt it was descriptively useful- these bands didn't shamble, oftentimes they played razor sharp and tight and accomplished... seeing Phil from Bogshed perform was a revelation, this bloke moved and minced (not a perjorative term) about like the consummate showman he was, he made the wilting can-barely-stand-upright-let-alone-face-the-audience affectations of some of the more janglesome bands of the period seem like the limp posturings they obviously were
Anyone want to say 'owt?